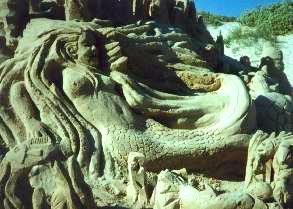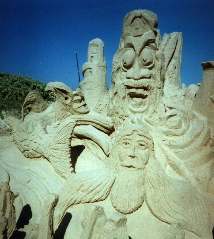 Above: Kali's mermaid -- One of our contributors asked that somewher on the sculpture there be a "mermaid with breasts." Here she is.
Left: Tom's demented Neptune, DuneHead's Dogfish and Steve Spencer's bearded dude
Below: The sea creature bar scene, created by Adelaide, Jason, Dave, Javier and maybe some other people I don't know about....
Tues., Oct. 21 - 2 p.m.

Our first attempt with a group-build went very well - all things considered. We went the full 24 hours and have a zip disk full of photos shot at 5 minute intervals. It makes a really cool slide show! Though it may take a while for sandy feet to come up with an animation from it all.

The phots on this page were shot by Dennis Barrett & Amazin' Walter when the project was finished.

Participating sculptors include:
Kali Bradford
Dan Belcher
Rich Varano
Barry Swires
Javier from San Diego
Dave from San Diego
Amazin' Walter
sandy feet
Dennis Barrett
Adelaide Bennet
Jason Lester
Steve "Dunehead" Mutter
Tom ?
Iris Hernandez
Josh Bradford
Jay Stevens
Nita Stevens
Steve Spencer
Other People Instrumental to this Project's Success
Laurie Gaudi
Jerry Boehm (and his colleagues in Kansas City)
Geoff & Meg Clifton and KESO (92.7 FM)
All the bartenders at Boomie's
(Surfer) Jim