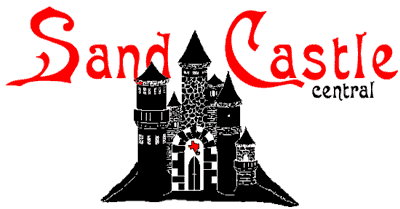 MASTER SCULPTOR NEWS
updated 6/11/04

Greetings, Fellow Sculptors!

Bookmark this page for the latest contest info, insiders gossip (!) and other tidbits of interest to those whose idea of a good time is moving massive amounts of sand and re-organizing them into something pretty.
---
We know there are lots of big projects going on this summer - please help me out here with links to the project web-sites -- especially pages that are updating as the project progresses. It's good for sand sculpture and good for us to help folks find these sites!
---
New In the SoB Shop - "Professional Grade" SoB sand carving tools now available. These babies are rust-proof (nearly, anyway) and individually sealed and blessed by our own Ray-Bo Man O' God. Limited edition -- when they're gone they're gone so better grab your set quick.
---
Get Listed- Get Linked - This site is getting a _lot of traffic. (my logs) I will link to your site if you link to this one. If your link was here and disappeared, it is because I couldn't find your link back to me. The big banners get hit hard - (banner specs) - and I am willing to make good deals to get more of them up --just $50/year.
---
SPI Sand Castle Days - We are now accepting applications for our masters division. Visit the Sand Castle Days site for more info.
---
Contest & BIG Project Dates: If you know of any dates and/or web sites for 2004, please forward to me -- thanks!
---
World Record Page: the SoB's humble attempt to keep track of the biggest sand sculptures ever created. All (legitimate) submissions welcome.
---
sand reviews: I have updated/changed the sand page so that it can include reviews of the different types of sand we encounter on our journies - may be of use to the next sculptor who plans a project there. Please contribute! -sf