REHOBOTH BEACH, DEL
1997
We had quite an afternoon Saturday in Rehoboth Beach. The 19th annnual Delaware State News Sandcastle Contest drew more than 200 participants and record 77 entries!
Our old record was 49 two years ago.

The winning adult castle, sculpted by Darryl O'Connor, Darrell Jones and Greg Wallace of New Castle County, Del.
---

Linda DeMaio of Wilmington, Del., with her triceratops (winner of the free form division)
---

Randy Hofman, of Ocean City, Md., with his sculpture of Jesus calming the sea.
---
1996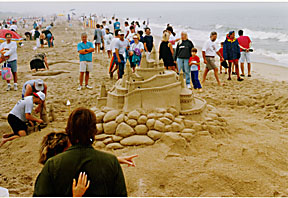 The large castle, winner of the 1996 contest, was done by a team headed by Greg Wallace of Hockessin, Del.
---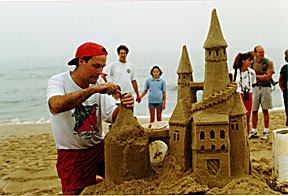 The castle, carefully being touched up, was third-place winner David O'Brien's work last year. He's from Arlington, Va.
---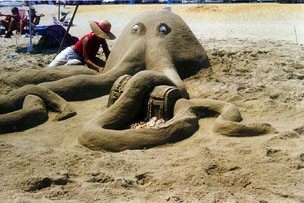 The Octopus was done by Soozi Colella of Potomac, Md.
The photos were taken by Andy West, managing editor of the Delaware State News

---
[tips & tricks] [carving tools] [contests] [photos/links] [sculptor list] [sculptor news] [sandcastle central]
---
This page brought to you by

the sons of the beach sandcastle wizards