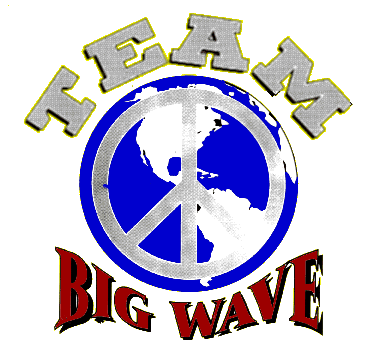 Team Big Wave Home Page

Welcome to my home page at the beach...

Big Wave Dave sez -

There are four stages of life:

You believe in Santa Claus!
You don't believe in Santa Claus!
You look like Santa Claus!
You are Santa Claus!
< ADULT TEAM-2ND PLACE

& PEOPLES' CHOICE

SPI Sandcastle Days 1996

"Mesa Verde"

A last-minute team comprised of several San Marcos folks and local ringer Big Wave Dave made good use of the beach's multi-colored layers. The wind erosion was kind of cool, too.

I live on a beautiful beach at South Padre Island, Texas.
South Padre Island is at the very bottom of Texas on the Gulf of Mexico.
The Town of South Padre Island has the great honor of hosting this year theTenth Annual Sand Castle Days on October 18 - 19, 1997

Some of my passions:
Sand Castle building - Living on the beach allows for that on a regular basis
Springboard diving in the Masters Division - Age group diving at its finest
Music : Jimmy Buffett - Have Parrothead will travel! Bonnie Raitt, Eric Clapton, Stevie Ray Vaughan
Some more samples of my sandcastles:
Team Big wave is excellent in sandcastle building! They really prove that incorporating Christmas and sandcastle building truly makes for excellent Christmas photo cards, a fun and creative way to share the holiday season greetings! As you'll notice, they can make some wonderful Birthday greetings as well! Sandcastles really take greetings and messages to a whole new level.



e-mail Big Wave

sandcastle photo gallery
master sculptor list

Sandcastlecentral.com

Home